Usage of maps on Chinese website
Posted by Marc Füßlein, Last modified by Marc Füßlein on 22 June 2023 13:09
The use of maps on websites operated in China is subject to several regulations. Before using a map on their Chinese website, Western companies should ensure that it does not violate Chinese laws. In the worst case, this could lead to the website being shut down or even the revocation of the Chinese business license.
The conflict between China and Taiwan, whether Taiwan is an independent country or a province of China, is relatively well known. The fact that there are also disputed borders with India and that Chinese maps even use a completely different geodetic reference system are equally important issues to be aware of when using maps on a website in China.
The national borders of China
For most countries, looking at an up-to-date world map, it is fairly easy to find out where the borders with neighboring countries are. However, this is more complicated with China's national borders, because China is in ongoing territorial conflicts with several countries. Therefore, when using a map on your website, it is important to ensure that it reflects China's position on the territorial disputes and that the country's border is drawn accordingly. Otherwise, you can be accused of wanting to endanger the national security of China, which can have far-reaching consequences. Especially during the PSB filing, the responsible clerk will take a close look at any maps on your website. If a violation of Chinese law is found, you will be forced to take down your website until any issues have been corrected.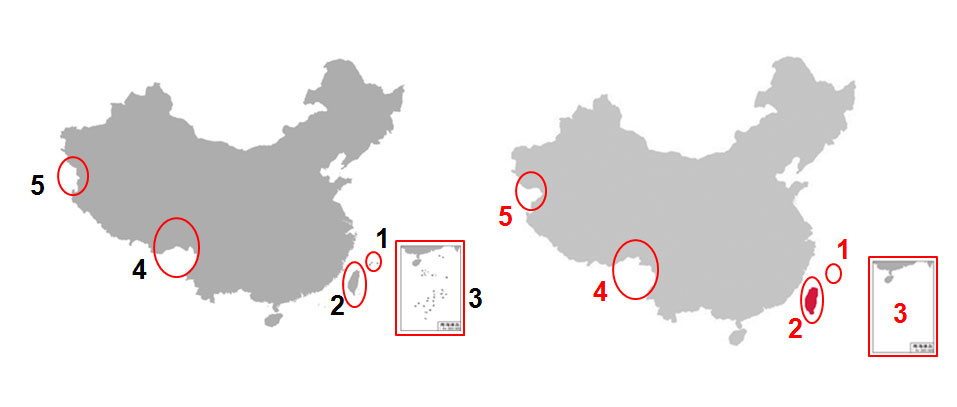 Source: https://www.zrzyst.cn/gjbtdtzs/730.jhtml (As of: July 2023)
In the above example, you can see China's borders from the perspective of the Chinese government on the left, and a map on the right that shows the borders incorrectly. Highlighted in red are five key points, which you need to consider when using a map of China on your Chinese website:
1. Senkaku Islands or Diaoyu Islands
The affiliation of these islands is an ongoing conflict between China and Japan - as well as Japan and Taiwan. Accordingly, you must ensure that your map reflects that these islands belong to the People's Republic of China. In particular, this also means that the name of the island group on your map is Diaoyu Islands, because the name Senkaku Islands is how they are known in Japan.
2. Taiwan
The conflict that is probably best known in the West: From China's point of view, Taiwan is a province of the People's Republic of China because China does not recognize Taiwan's sovereignty. You are therefore not allowed to list Taiwan as an independent country. Instead, it must be listed as a province of China.
3. South China Sea Islands
The South China Sea includes some 280 islands whose ownership is disputed between the People's Republic of China, Taiwan, the Philippines, Vietnam, Malaysia and other countries in the region. If your map on the Chinese website includes the South China Sea in such detail, the islands must be part of the People's Republic of China.
4. Arunachal Pradesh or South Tibet
Arunachal Pradesh is an Indian state whose territory is claimed by both India and the People's Republic of China. In China, the area is called South Tibet. Accordingly, on Chinese maps, the area must be within China's borders and labeled as South Tibet.
5. Aksai Chin
Aksai Chin is also an area between China and India, claimed by both. The national borders of China must therefore include this area.
Map services of third parties
The particularities described above when displaying the national border of China are mostly relevant for you if you have created a static map of China yourself or downloaded one online. But even if you are using a third-party map service, you may want to check that the borders are shown correctly, and you may also encounter other problems with the service in China. Because most western map services, such as Google Maps and OpenStreetMap, are outright blocked by the Chinese Firewall.
On the one hand, the blockage of many map services in China is due to the fact that these services do not display the national borders correctly from China's point of view or label the affected areas as disputed. On the other hand, it is due to very strict laws that largely prohibit the collection of geographical data and the creation of associated maps in China. The basis for this is primarily the Surveying and Mapping Law of the People's Republic of China (中华人民共和国测绘法). Only a few Chinese companies have permission to create maps of mainland China. Foreign companies are banned across the board from operating their map services in China.
It is also important to note that maps from Chinese service providers such as Baidu Maps or Gaode are never 100 % accurate. While the WGS-84 geodetic reference system is commonly used in the West, which can be used to create very accurate maps based on geographic data, Chinese maps are using the GCJ-02 system. This system takes geographic data, creates an associated map with it and distorts the result, which means that points on the map are usually 50 to 500 meters away from their actual position. The fact that using GJC-02 results in inaccurate maps is by no means a mistake, but deliberately wanted by the Chinese state to increase national security.
What does this mean for your Chinese website? If you are currently using a map service and would like to continue integrating the map in China via a third-party provider, you must first switch to a corresponding service in China. If you display additional information on the map, such as your worldwide locations, you will probably need to convert your coordinates from WGS-84 to GCJ-02.

Need support and advice?
You are welcome to contact weber.cloud China with any questions. You will be in good hands, starting with suitable hosting solutions for your website in China, through support with applying for an ICP license and carrying out the PSB filing, to years of experience with third-party services in China and the content of Chinese websites. If you require a legally watertight review and analysis of your website with regard to Chinese laws, contact can be made with English-speaking lawyers in China.
---
The contents of this article have been compiled with the greatest possible care and to the best of our knowledge. However, weber.digital GmbH does not assume any liability for the topicality, correctness, completeness or quality of the information provided. Any liability for damages arising directly or indirectly from the use of our knowledgebase is excluded, unless caused by intent or gross negligence.
Our knowledgebase contains external links to other websites over whose content we have no influence. For this reason, weber.digital GmbH cannot accept any liability for these contents. The respective provider of the linked website is responsible for the content and correctness of the information provided. At the time of linking, no legal violations were recognizable. If such an infringement becomes known, the link will be removed immediately.
---